Laptop Battery Specifications and Battery Care Tips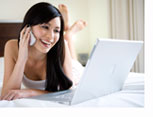 When comparing laptop batteries, look at the number of cells, which provide power. The more cells, the better life the battery can provide. Laptop manufacturers try to balance battery-supported operating time with overall weight of the laptop.
Understanding Battery Cells
The more cells a laptop battery has, the longer it will last. However, that also means it will be heavier. Laptop batteries generally come with 3, 6 or 9 cells. Most laptops can be upgraded with better batteries.
Getting Maximum Use
Some laptops can drain a battery's charge very quickly, especially those with a lot of multimedia functions. To get more power per charge, turn off Wi-Fi when it's not in use, dim the screen as much as possible and shut down programs that aren't needed.
Extending Overall Laptop Battery Life
A laptop battery only has a certain number of charge cycles, which varies per battery. To extend the overall life of a laptop battery, remove it when using AC adapter to power the laptop. Using a laptop cooler will also help extend the battery life, because heat can damage the cells.

Advent roma 1000 laptop battery
Li-ion, 4400 mAh, 10.8 V
only AU $ 88.27
More detail about battery care tips and laptop hardware problems at www.battery-fast.com/battery-care
What to Know Before Buying a Spare Laptop Battery:
There are many repalcement laptop batteries manufacturers, and even more retailers to buy your laptop battery from. However, your biggest concern in purchasing a laptop battery will be to choose the battery that fits your computer. For this you will need to know the make and model number of your laptop; if you don't know his offhand or don't have the necessary paperwork, check the inside of your laptop's battery compartment while the computer is off and unplugged. There you should find the model number, along with some other information. You may also find the part number of your laptop battery, located on the casing of the battery itself.


HP 484170-001 Battery
Li-ion, 4400 mAh, 10.8 V
only AU $ 66.55
How to Choose a Replacement Laptop Battery:
When buying a laptop battery pack, you will probably only have one or two choices that fit your computer. Choose the HP probook 4510s battery with the longest life available for your computer. There are several different kinds of discount laptop batteries; because the technologies of each are very different, a laptop must be designed specifically for the type of battery it uses. Most laptops are only designed to use one type of battery technology.
Related post: How to improve MacBook Pro laptop battery life
How to Charge Dell Inspiron 6400 Laptop Battery
How to Manage Lithium Laptop Batteries
Laptop Battery Care Tips and Facts
How to Rebuild Fujitsu Laptop Battery
Quality Battery Supplier --> Laptop Battery Care Guide
How to select the right laptop battery and laptop ac adapter for your laptop
Thursday, Feb 22, 2011 by discount laptop battery shop

Finding your laptop Brand & Model
Your owner's manual should have the brand and model on the front cover. If you don't have your owner's manual then almost every laptop has a manufacturer's label on the bottom of the computer. This label should have the brand and model number on it.

Ideal Strategy to Maximize Laptop Battery Lifespan
Friday, Jan 21, 2011 by laptop battery shop
What's the best way to extend the service life of your laptop battery? Not runtime between charges, but how many charges you can get from a Lithium Ion laptop battery before it will not longer hold a useful charge...